Stay At Home Valentine's – Lockdown Style
So guess what… Valentine's Day 2021 is going to be a little different, just like all our special events recently! Celebrating Valentine's Day was relatively simple, just book a table at your favourite restaurant, pick up a bunch of flowers, a card, and you're good to go. But all that's changed this year.
Maybe you never were a fan, you find it all a little cheesy, or you hate the fact that prices at restaurants are inflated for one evening only. Well, good news – 2021 is your time to indulge in celebrating at home. For those that love any excuse to declare their love, you can now get creative and go for the best date night in ever! We say, make lockdown Valentine's one to remember, and good news, it falls on a Sunday this year, so there's a whole day to plan something. Whether it's a romantic breakfast, a walk, an evening on the sofa with a film and a packet of popcorn, a gorgeous bottle of bubbly, or you're pulling out all the stops and cooking an incredible meal for two.
Unfortunately, if you don't live together, planning a Valentine's for two is a little trickier and unless your partner is in your support bubble, you can only meet one person, once a day for a socially distanced walk in a public space and in your local area only, no cups of coffee allowed!! So what if you live apart, there's still ways to celebrate. You could plan a dinner date for 2 via Facetime or Zoom and get a good old takeaway delivered to you and your partner at the same time, or a movie night or box set-binge using an app like Teleparty.
Here are a few of our favourite stay-at-home, date night ideas and ways to celebrate Valentine's Day in lockdown… ​
Breakfast In Bed or Brunch
Why not celebrate first thing in the morning, and plan breakfast in bed for two!
Pick your partners favourite breakfast goodies – think pancakes drizzled with syrup, berries and yoghurt, croissants, poached eggs and avocado and bring it to them hot and fresh when they wake up. For a full fry up – may be best to leave a little note on their pillow telling them to meet you at the dining table, think heart-shaped moulds for fried eggs for that extra romantic touch!
If cooking is not your thing, or you don't fancy being in the kitchen, why not check out what your local restaurant, deli, bakery or farm shop is organising and order a breakfast hamper delivery.
Photo courtesy tworedbowls.com
Romantic Walk
Pick a local route, and surprise your partner with a romantic walk for two, hopefully, it won't be pouring with rain or snowing.. second thoughts a snowy walk may be rather wonderful!
Home Spa
A simply indulgent and an oh so lovely treat for a Valentine's Day is a spa day. Pre-lockdown beauty treatments at our local spas and salons are a dim and distant memory, but this is super easy to organise but will look like you've put loads of thought into it.
You're going to need candles to set the mood, with a beautiful spa like or romantic aroma, a bath full of bubbles and rose petals, face-masks and perhaps put your massage skills to the test. All with a glass of something lovely and your favourite playlist in the background. Relax, slow down and pamper yourselves
We've got it covered… we've created the most gorgeous Valentine's treat You Melt My Heart' gift box with all the treats to create a beautiful spa atmosphere.
All you'll have to do is run a soothing bath and scatter the rose petals in, light the Cherish candle to give a beautiful warm glow and melt the wax melts scented with a heavenly blend of essential oils Rose, Pink Pepper, Geranium and Mandarin. There's all a stunning laser cut keepsake wooden love rose.
There's a personalised gift set too, we'll add your partners name as a gorgeous finishing touch!
Memory Making
Take the day to research and plan your perfect holiday… for when we can travel again, nothings better than some exciting plans.
For couples who've been together a while, it's easy to forget all the good times and all your happy memories. So why not create a slideshow to reminisce those happy times in your life, and then plan for future adventures.
Classic Date Night In
Restaurants are closed and bars are shut, but what's stopping you turning your home into your favourite eatery?
Dress up, this is a date night after all, and when did you last put on your favourite going-out gear? Decorate with candles and get out those Christmas fairy lights, pop open a bottle of bubbles and plan your fav menu.
Choose a starter, main and dessert that you both love and cook together so one person isn't doing all the cooking. Some restaurants are offering deliveries of fresh ingredient kits to make your own, which come with all the instructions and are easy to make.
If cooking is not for you and you're dreaming about some fancy restaurant food, you can order to dine-in. Check out what your local restaurants are doing and book early to avoid disappointment. Many places have started at-home delivery services where you can order a restaurant meal that only needs to be heated up at home.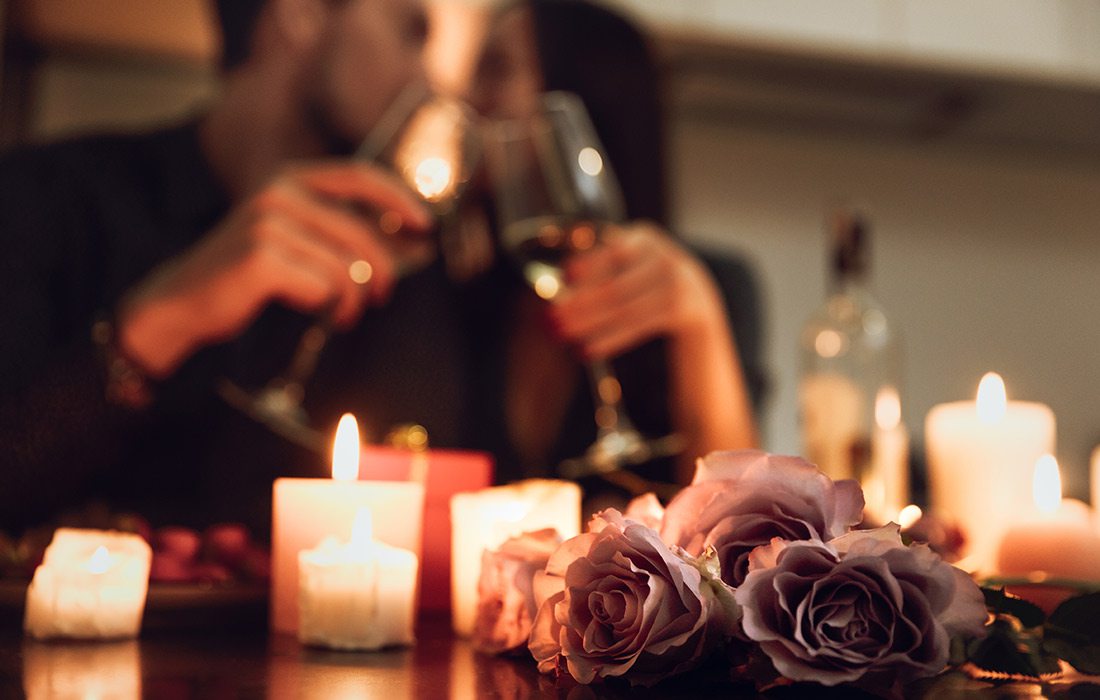 Photo courtesy Shutterstock
Cocktails or Wine Tasting
So you're missing your local or dry January has left you feeling virtuous but ready for a tipple, why not organise a wine or cocktail tasting for two.
If you love a cocktail, pick up the ingredients you need to make your classic Mojitos, Espresso Martinis or Bellini's and get making. See who can make the most divine and delicious drink, remember you may need finishing touches like a twist of orange, a sprig of mint or for retro drinkers straws and umbrellas!
If wine is your thing, you could research wine clubs online that offer wine tasting boxes or pick up an assortment of mini bottles at the supermarket to make a taste test for two.
And remember snacks!
Home Cinema Night
A traditional movie night is simply the best, even though we've all been binge-watching Netflix and Amazon Prime! Make your Valentine's Day film night a proper cinema experience with snacks such as popcorn, pick and mix, crisps and nachos, then scatter your cushions and blankets around so you can snuggle up together.
Most importantly follow the cinema rules…
Happy Valentine's
x