Wedding Trends 2020 – 2021- Part 1
Before the Big Day
It's so hard now with Instagram and Pinterest! You can spend hours scrolling through your feed only to be bombarded with so many aesthetically pleasing and gorgeous ideas.
So first off, the biggest wedding trend for 2020 is individuality. Weddings are evolving and brides are no longer classified as traditional or boho. Our best advice would be, become creative, narrow all your ideas down, keep it simple and tailored, find your look, something that feels fresh and 'you', and not just your typical wedding look.
 It's more about the atmosphere and vibe rather than a wedding theme.
As there are so many ideas, old and new, we've broken them down into two posts, 'Before' and 'On The Day' ideas. Here are a few must-have items, ideas and trends to take you from 2020 to 2021 weddings.
The All-Important No 1.
The Wedding Dress
You've always dreamed of wearing that white gown on your special day, but if, like many brides, you have no idea what will suit you and you want to feel you – then you're super lucky to be getting married in 2020. The new bridal designers are showcasing a world of choice for the bride who doesn't want to look too "bridal" but still stand out, be gorgeously unique and look amazing!
In 2020, we'll see the embroidery trend boom as couples find more unique ways to tell their personal love story. It's an incredibly easy way to customise a boutique-bought dress and can be anything that means something to you both, like a line from your favourite song or your initials and the wedding date. What's so special is that they can be done for everyone to see or as a secret message hidden in the dress that just you know about.
hitched.co.uk
whimsicalwonderlandweddings.com
The 'Two-in-One Wedding Dress'. a ceremony dress and a reception dress will become the 2020 style option for brides. Celebrities change for the evening party, such as Ellie Goulding, who wore four outfits, are fuelling demand for multiple looks through their day. This doesn't have to mean two dresses, as a rise in bridal separates, where the same skirt is worn with different tops. Alternatively, brides will be using cover-ups as an affordable way to change their look while keeping the same base-layer dress.
       
Dresses from Etsy
The embroidered wedding dress a trend started by Chiara Ferragni with her embroidered wedding dress, she wore a gown with lyrics from her husband's songs and motifs inspired by the couple's relationship.
Dior
You don't have to go all over with the personalisation, you can add a secret little message inside your wedding dress.
Pinterest
We've created these gorgeous heart patches that you can easily and quickly sew inside your gown, add a message or we can create a monogram design just for you.

Wedding Dress Personalised Keepsake patches from Hummingbird
 Statement Headpieces
From vintage diamanté hair clips to ethereal headbands, boho flower garlands, or a glamourous tiara it's still all about the headpiece with relaxed locks,  you're going to be spoiled for choice.

Etsy
janetaylorlondon.com
stylemepretty.com
The Veil
The modern wedding has evolved so much but there is something sublimely romantic and timeless about a veil. In the last 20 years, veils became less fashionable but now the veil is no longer simply a wedding accessory, but another opportunity to declare your love. In 2019, Hailey Baldwin looked stunning in a cathedral length veil with 'Till Death Do Us Part' embellished. Adding personal touches to your wedding is not new, but the veil, with statement-making veils incorporating hidden precious messages including touching words, personalised designs, monograms and dates is making an impact. Maybe it's about creating heirlooms too, to hand on through the generations. So 2020 will see veils as something you may go big with or go without, we'll see brides with cathedral-length veils or going for stunning hair accessories.
 
hermionedepaula.com
hermionedepaula.com
brittenweddings.com
The Ring
One of the most noticeable changes over recent years is for a proposal without a ring. For 2020 wedding couples are choosing their rings together – both the engagement ring and wedding bands. Now more than ever it's important that it's a ring that you both love, be it a ring you saw on Instagram or an antique engagement ring you found in the jewellery quarter.
 The most popular are cushion-cut, hand-mined diamonds (a square cut with rounded corners) and jewellers are predicting a return to yellow-gold rather than platinum bands, alongside Art Deco styles.
jewelformeblue.com
Etsy
artemerstudio.com
Bridesmaid dresses
Having bridesmaids is one very important tradition that will never die. What they should wear and how much input and influence they have has really changed. Some brides want to showcase their friends' personalities, rather than putting them all in the same dress. Mix and match styles with contrasting colours, necklines and prints are thankfully on the rise, making the task of keeping your closest friends and family happy on the day, with designs they enjoy wearing, a little easier. And they are often dresses they can wear again, so it's all good.
 
bhldn.com
The Groomsmen
Gone are the days when the groom had very little to do with the wedding planning. Every stage of the wedding planning journey is now a joint decision between the couple, with men taking the lead in their outfit and grooming choices. Venues are also reporting grooms now requesting a dedicated space at the venue to get ready with their best man and ushers, just like the bride. They'll invest in a special wedding day cologne, splash out on skincare products and facials, hire a personal trainer, and get the lads together for a traditional barbershop wet shave and haircut just before the wedding.
You'll see more grooms and ushers making a day of suit buying, maybe getting them made to measure and even enjoying treatments you would normally see at a bridal boutique (just with whiskey, not Prosecco). 2020 is all about grooms treating themselves.
 
stylemepretty.com
greenweddingshoes.com
Gender-Mixed Wedding Parties
With the decline in religious ceremonies and more gay weddings, this will show itself in the wedding party as gendered traditions are thrown out of the window and replaced with the people the couple really want standing by their side. Instead of all-female bridesmaids and all-male groomsmen, 2020 will see a mix-up of who's in the wedding party. We'll see more best women and males of honour, plus groomswomen and bridesmen and flower girls don't have to be children, why not ask your Grannie! And of course, our pups to be part of the celebrations too. Wedding party will replace the term 'bridal party', there's not always a bride.

hitched.co.uk
theknot.com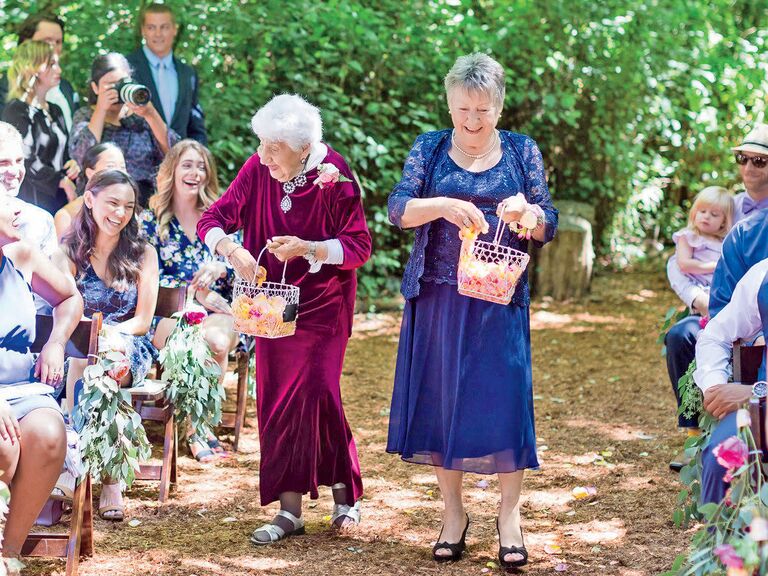 theknot.com
elegantwedding.ca
Bold Colours
Couples will be opting for more bold and vibrant hues,  moving away from the more traditional pastel colour pallets. Taking a bolder approach with colours can really add to the overall impact and create a more vibrant look. Mix dark shades with pale light tones. New colours are Cinnamon, Terracotta, Inky Blue and Burgandy.

onefabday.com
Pinterest
Wedding Flowers
More and more couples are choosing florists that use locally-grown seasonal blooms, wildflowers or dried flowers. Some couples are even going one step further and opting to grow their own flowers, or simply incorporating already existing gardens into their big day.
The 'It' flower of 2020 will be the rose, it's so due a comeback! This classic beauty, ever the symbol of romance, will reclaim the wedding flower symbol this coming year. A bridal bouquet made of only one colour of roses is striking and a truly stunning statement. In winter, go for deep reds and summer pure whites. In spring look for peach, coral, lemon yellow and dusky pinks are beautiful. Weave roses into centrepieces, flower crowns and buttonholes.
harpersbazaar.com
Living plants are another option for adding greenery to your big day. Classic shades that go with everything and a fabulous foliage archway can really wow, with far less environmental damage, bring in potted plants and trees and smaller potted plants make great favours while decorating your tables.
succulentsnetwork.com
Recently we've seen soft greenery and airy, ethereal arrangements, but for 2020 wedding flower trends it's all about a return vibrant colour with big, bold details.

ksageevents.com
Dried flowers are another up-and-coming detail that we'll see more of in 2020. Dried flowers are becoming more fashionable when it comes to bohemian, minimalistic, and even classic looks. Dried lavender, baby's breath, and daisies are just a few options you can use to dress up your floral arrangements. Collect and press flowers throughout your engagement, then use the dried blooms as decorative accents on your stationery, place cards or table plans. The best part is that since your wedding flowers will already be preserved, you can easily hold onto them as keepsakes after the big day.
All types of dried grasses too, especially pampas grass plumes for a diva bohemian 70's feel.
weddingforward.com
blovedblog.com
Pinterest
weddingchicks.com
Part 2
Will be all about trends for your venue.
Why not head to The Hummingbird Pinterest Boards where you'll find loads of other ideas!
Happy planning!