Wedding Trends 2023
Wedding trends are always evolving and emerging and the 2023 season is no different… except it kind of is!
We'll remember 2022 as the year of post-pandemic weddings and after all the restrictions with so many weddings in such a short space of time, we're set to see the biggest change ever in the traditional UK wedding. It's time for something new, a shake-up of weddings as we know them and so it's going to be about re-inventing the wedding to suit YOUR needs and making it a truly personal and an ultimately intimate experience for your guests.
From simplifying your guest list to host smaller more intimate weddings to non-traditional wedding parties to important considerations like sustainability, here are some ideas from fashion and the latest dress trends, colour predictions, decorations, and novel ideas to surprise your guests.
Keep It Simple
It's been reported that the average spend on weddings has increased since the pandemic but pre-pandemic, couples were inviting around 100 guests in total to celebrate their day but this has dropped now to around 70. Some couples found it hard to cut down their list to marry during the pandemic and others found it liberating and only invited those they truly wanted to celebrate with, rather than inviting out of politeness.
Whilst guest numbers have dropped, the spending has not yet and couples are using the money they've carefully saved to still invest in their wedding. We can expect this trend of more selective, simplified guest lists to continue as couples focus on creating a personalised wedding experience with their absolute nearest and dearest and so avoid the pressure to invite all the +1s!
Wedding Fashion Trends
Wedding dress trends play a very important part in what a wedding will look and feel like, after all the dress is the most important thing in any bride's plans.. am I right?
Wedding Outfit Changes
With so many options now for wedding dresses and outfits, there's just too much to choose from for brides deciding on the perfect look for their special day. So, why not just decide to change outfits multiple times during the event? This is also a great solution for brides who wish to walk the aisle in a dress but prefer a wedding suit for the after-party evening events. This is also a great idea for couples planning a wedding that's planned over several days.
80's Inspo
So you may be thinking of Princess Diana's iconic overly puffy wedding dress, but don't worry – the 80s look has become ultra sophis and elegant with dramatic detailing. Think voluminous sleeves, and bows of course, but watch out there for some rah-rah skirt-inspired detailing on shorter styles.

Diana & Elizabeth – Karen Willis Holmes
Bridal Wedding Suits
For brides who want their wedding day look to be sleek and chic, one of the hottest trends for 2023 has to be the stylish bridal suit, which is growing in popularity and there's going to be more and more to choose from. The tailoring of the wedding suit for women is extremely important; it conveys the elegance of the bride and a well-tailored bridal suits capture a sense of chic. Women who love the wedding suit have a flair for new fashions, and love to make an impact!
Bows
Also inspired by the 80s, bows are back. We've been a fan for a little while now and reported the bow trend here. Bows for your dress, shoes, hair, invitations, flowers, and venue styling; they're an endless source of wedding inspiration.
Viktor & Rolf
Etsy
Hummingbird Cards
Pearls
Pearls are set to be the wedding detail for 2023. You don't have to do a full-on pearl dress there are lots of subtle ways to include them, from delicate details on veils, decorations on shoes, hair accessories, and why not your cake too!
Etsy
Colour
Rust & Copper
Create a retro vibe with a rust and copper wedding colour palette. One of the latest wedding trends of 2022/23, rust weddings are full of earthy colors and a bohemian style. Monochromatic color schemes of blush, orange, or rust are a great choice for a rust wedding. You could also add neutrals like white or black for a dramatic contrast.
See our full report on this stunning rust and copper palette here.
Viva Magenta
Pantone has officially unveiled their 2023 Color of the Year as Viva Magent! A dramatic rich red-mauve hue. What better way to make an impact with a pop of colour on your wedding day?
Viva Magenta is defined as a crimson red tone with nature being the influence behind this colour.  Leatrice Eiseman, executive director of the Pantone Color Institute, says: "In this age of technology, we look to draw inspiration from nature and what is real. Pantone 18-1750 Viva Magenta descends from the red family, and is inspired by the red of cochineal, one of the most precious dyes belonging to the natural dye family as well as one of the strongest and brightest the world has known".
We think the best way to incorporate this shade into your wedding is to use it as an accent highlight, rather than a full-on dominating colour. This way, the vibrancy and richness won't be overbearing. Let your creativity get carried away by working it into your flowers, invitations and wedding stationery or using it as an incredible, eye-catching detail!
Blues
2022 saw Pantone launch Very Peri blue, a cornflower purple tone as colour of the year, and in 2023 blue and lavender hues are set to take over as a key wedding colour.
Whether you pick a delicate powder blue, lavender, or regency blue, it's safe to say that your bridesmaids will be spoilt for choice and will be so on-trend. You can see lots of beautiful blues inspo in our next trend – Bridgerton!
The Romance of Bridgerton
Netflix's hit show Bridgerton is set to inspire wedding trends. The drama featured period Prussian blue tones, puffed sleeves, and plenty of bows. There you go, all the details that we've just mentioned! Brides loving the Bridgerton theme will look to capture the romance with the larger-than-life ballrooms. To make the most of the Regency era inspiration, consider naming tables that play into the story like the "Duchess Table". Opt for empire-waist gowns with a square neckline, and make use of delicate antique accessories such as teardrop earrings or a tiaras.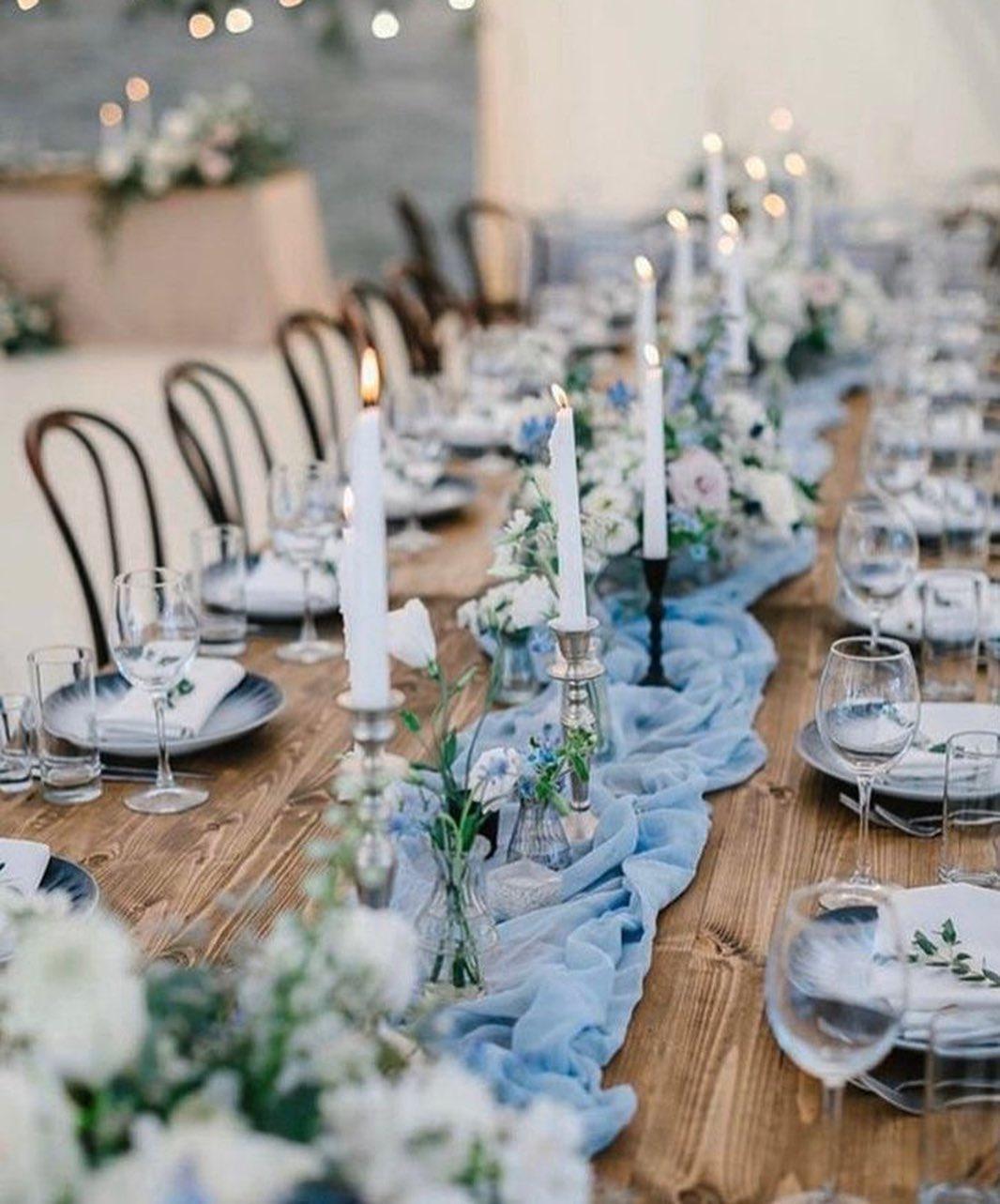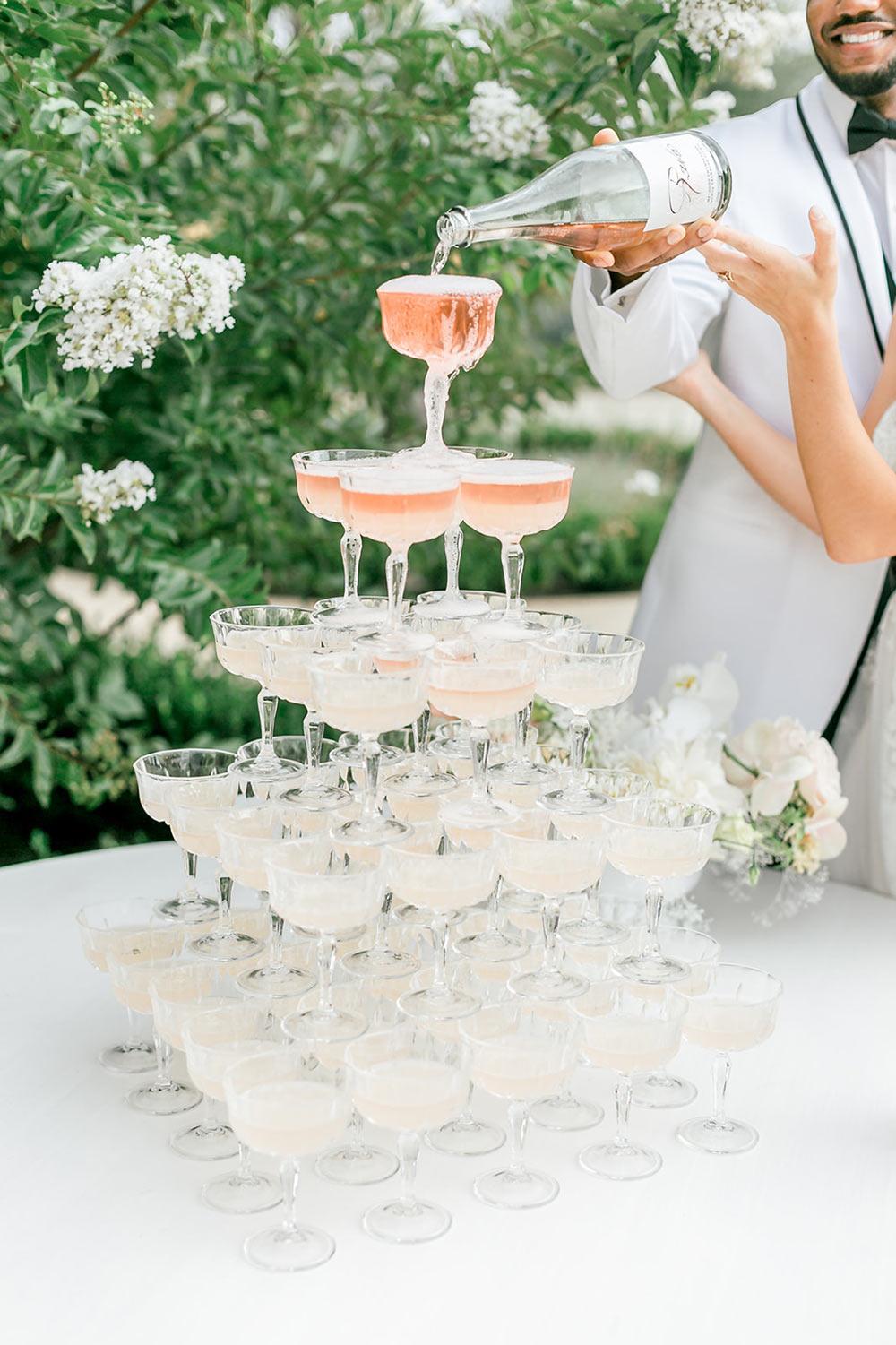 Wedding Trends for Grooms in 2023
There are three main emerging trends for grooms in 2023 but they all have in common a distinctive style while maintaining a consistent look with the other members of the wedding party and in particular a blue suit or a blue fleck. The three-piece classic suit is still a main trend for 2023, with the groom favouring a change in the colour of his jacket or waistcoat to convey a contrast with the other members of the wedding party.  Grooms will also continue to favour the dinner suit with a traditional dinner jacket, a contrast lapel and a bow tie.
Etsy.co.uk
suitdirect.co.uk
marcdarcy.co.uk
etsy.co.uk
FLOWERS
Couples are making ecological choices for flowers that are already in bloom instead of flowers that are not in season, this makes bouquets so much more affordable and more environmentally friendly too. Consult your florists as they can recommend the best flowers that are in season for your wedding date.
Alternative to fresh flowers are dried flowers which have become so fashionable in the last couple of years, but faux flowers also help cut costs but still create beautiful floral designs. Hot on the heels of dried flowers is pressed flowers which will become more fashionable in 2023. Pressed flowers are not only beautiful they are eco-friendly, romantic, and full of wonderful delicate details. You can incorporate pressed blooms into wedding invitations, place cards or seating plans and they are a beautiful way to add some floral romanticism to your wedding in a new way.
Muted pastel tones have historically been the go-to colour palette for flowers, but 2023 sees the emergence of bright, brilliant, and bold blooms. Think strong bold colours with mixing and matching of varying shades and textures.
Cascading bouquets are on trend again.. hooray, we love these! And it's another of those 80's throwback trends. Cascading bouquets in 2023 are big, bold, and literally dropping to the floor with lush trailing vines and colourful ribbons. Another top trend for these bountiful bouquets is colour gradient cascades, perfect for drawing your eye to the bride but also creating a jaw-dropping floral display your guests will love. Whatever your wedding theme there's a chic cascading bouquet to suit. These iconic asymmetrical designs are the perfect way to add drama to your wedding florals!
Pinterest
ENTERTAINMENT
Couples are now more than ever looking for new ideas for entertainment. Wedding games, music, and after-hours events with unique experiences create lasting memories for guests and the wedding couple. We see specialty entertainers, such as live painters, performers, and food trucks, which will be a huge hit, keeping your guests amused during the cocktail hour, to ending the night with a bang. There are plenty of moments throughout the day where adding a little extra entertainment can make your wedding celebration even more special and memorable for everyone involved. Here are just a few ideas we love!
Palm Readers
Photo Booth
Food Trucks and Street Food for midnight feasts
Popcorn, Crepe or Candifloss stands
Fireworks and Fire Performers
Couples Quiz
Live Painters and Caricaturists
Pimp Your Prosceco Bar
Whisky and Cigar Lounge
Champagne Tower
Singing Waiters
Petting Zoo – for animal lovers and children!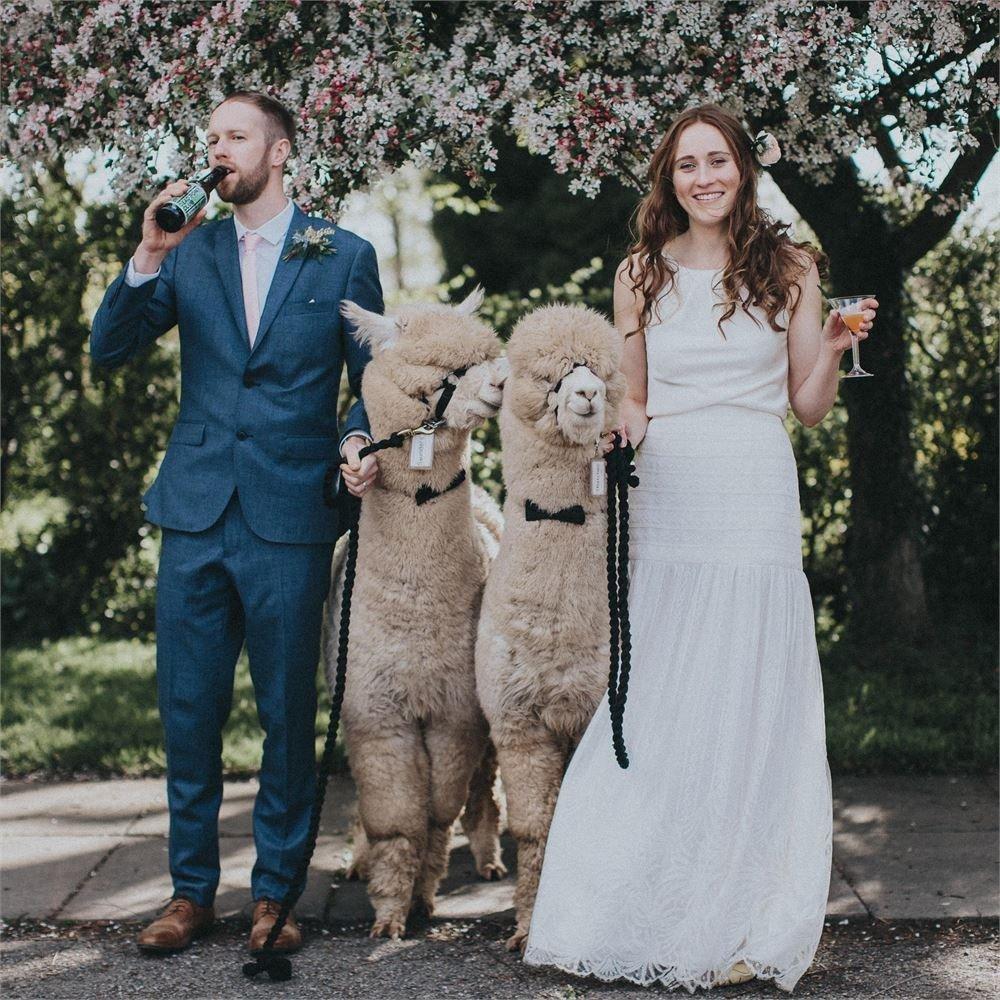 Charnwood Forest Alpacas
Glitter Bar
We love The Headblush Glitter Bar pop-up, a fully mobile one-stop shop for glitter makeovers that will have you and your guests sparkling all night long! The perfect finishing touch for festival weddings.
Magicians
And finish your night off with a bang
Confetti Canon
Sparklers
Hot Chocolate Bars
---
We hope some of these stunning trends inspire your wedding. Happy wedding planning for 2023!